Safety
We have been repeating this for years, with the new Elevah® Electrical Ladders work times are reduced, fatigue and accidents are halved, and labour costs are reduced by 50%. A wide, complete, and updated range of products guarantees constant safety and meets every requirement.
SAVE TIME, EFFORT AND MONEY IN MAXIMUM SAFETY.
Save time.
Elevah® Electrical Ladders allow you to save time as you do not need to step up and down continuously from the ladder every time you have to move position. Moreover, thanks to the Picking solution, the goods or work equipment are always at hand and safe.
HALVE THE WORK TIME WITH ELEVAH
Save effort.
Fatigue, falls, distortions, absences from work due to injuries, etc. With Elevah® Electric Ladders many of these problems are solved. A work station where you do not have to step up and down continuously, but everything occurs safely and comfortably.
Save money.
Why having two operators when the same operation can be performed by one single person? 50% saving immediately, the best way to reduce costs and boost your morale and your business. Easy to displace and handle, thanks to its compact dimensions. This reduces work times and risk of accidents.
OVERALL DIMENSIONS ARE REDUCED BY 70% WITH ELEVAH
FARAONE LADDERS, BUILT FOR MAXIMUM SAFFETY
IN COMPLIANCE WITH THE NEW EUROPEAN STANDARD EN 131.7
Safety during temporary work at a height - Download the document by clicking on the cover
For Faraone, building a device in compliance with current Standards is only the beginning. Therefore, all Faraone ladders have been built to comply with the EN 131 Standard and approved by the Polytechnic of Milan. All mobile scaffolding equipment is built in compliance with the EN 1004 Standard and approved by ISPESL (Higher Institute for Worker Security and Protection) and all Faraone platforms are built in compliance with the EN 280 Standard and approved by bodies certified to issue CE certification. There is no CE certification for ladders and mobile scaffold towers; they must comply with European Standards or with Italian Legislative Decree 81. As we were saying, Faraone aims at building its ladders, mobile scaffold towers and aerial platforms with the best safety features possible, going well beyond the minimum requirements of the Standards, since safety and the speed of work are an integral part of the company mission.
360 DEGREE SAFETY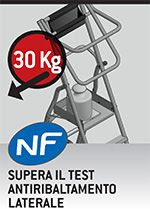 Faraone only accepts 100% safety; for this reason it has recently introduced ladders that have work positions that are totally protected, meaning the operator cannot fall. The protection is 100 cm high; the work platform is large and there are also stabilizing devices to guarantee against the sideways tilting hazard. All of this in line with the new EN 131-7 EUROPEAN STANDARD, which also envisions the tests against sideways tilting of the ladder. These ladders can really be used as a work place, even over a long period of time. Faraone roller ladders also fall into this category; type approved in compliance with the EN 131-7 Standard. This Standard was disclosed on September 2013.
FARAONE PATENTS FOR SAFE USE OF LADDERS AND SCAFFOLDING
SICUR STOP
Faraone patented device for safety of the ladders during movement and use. The brakes on the ladders on wheels must be engaged before use. ENGAGING THE BRAKES ON THE LADDER IS LEFT TO THE OPERATOR'S DISCRETION, WHO IN MOST CASES DOES NOT PERFORM THE MANOEUVRE. USING THE LADDER IN THIS WAY LEADS TO A SERIOUS INJURY HAZARD, GIVEN THAT THE LADDER IS UNSTABLE. To solve this problem, Faraone has patented SICUR STOP; a lever system that lifts the ladder to activate the wheels and be moved. THANKS TO THE ANTI-INTRUSION BAR, in this phase the operator cannot access the ladder. By taking the lever to the rest position, the wheels retract and the ladder rests on the solid stabilizer bases.
SICUR STOP CAN BE MOUNTED ON ALL ROLLING LADDERS PRODUCED BY FARAONE.
LARGE STEP 30 cm.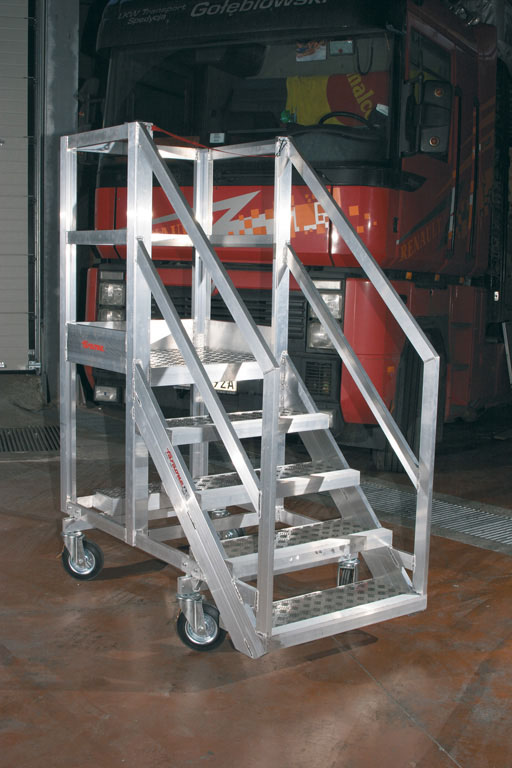 To give maximum safety and comfort to a ladder, the step must be as deep as possible and have inclination that allows comfortable climbing. In this case, the Standard envisions a minimum step of 8 cm. Faraone has a wide range of ladders with flat steps measuring 13, 15 and 30 cm with climb inclination of 60 and 45 degrees; the more the ladder is inclined, the more comfortable the climb. The ladder models that benefit from this innovation are: smt, mft, smft, mag, spf, sag ,sge, domus, sgp, teles tt, cm and all models in the special line.
SAFETY HANDLE FOR TELES TT
Multi-purpose telescopic ladders are very handy thanks to their versatility. They can be used as an extended ladder or in the scissor position or adjusted for use on stairs. However, they hide several hazards during use regarding operator stability, as the rung is only 3 cm deep and there is no protection in the upper part. In order to offer the maximum safety possible, Faraone has patented a removable handrail and a step measuring 15 cm, which the operator can position in the point he is working, offering a safe grip and great comfort underfoot.
STEPS FIXING SYSTEM USING AVIATION TECHNOLOGIES
To guarantee long-lasting ladder stability, a fixing system that ensures the ladder does not move over time is essential. Rivets are commonly used to fix the double-sided ladder flat steps, but even if this solution is widely used, it creates problems with loosening and safety hazards after only a short time. Another solution is to weld the aluminium parts, but this solution also creates problems with resistance to fatigue and after just a few years the ladder may have to be thrown away. Faraone has invented a fixing system with aluminium expansion rivets that ensure the ladder does not move over time, without weakening the structural part of the ladder. This solution is normally used to assemble parts of an aeroplane. The following models benefit from this innovation: teles tt, lady, domus, nd, ndl, sella.
HIGHLY ELASTIC COMPONENTS: they bend but do not break when overloaded
For Faraone, all structural parts where personal safety is at stake must have features that bend but do not break if overloaded. When a component on a ladder bends, the operator suffers no harm and on changing the damaged component, the ladder is as good as new. If vitreous components are used, such as die-cast aluminium elements, they can suddenly collapse, with serious injury to the operator. Regarding this, take a look at the video comparing die-cast aluminium articulations on the market and the Faraone moulded steel articulation. The entire Faraone range benefits from this essential safety feature.
STABILIZING BASE WITH HIGH GRIP
Italian Legislative Decree 81 indicates that leaning ladders must be fixed before being used. Faraone deems that in order to offer the operator the greatest possible safety, the first step is to have a base that slips as little as possible. This is why it has patented a large twin-component base with an extruded aluminium core and a thin part in slip-proof soft plastic. This system guarantees large and safe leaning, meaning every type of ladder is highly stable. The models that benefit from this innovation are: smt, cm, 150 range, 200 range, mft. As another safety feature, Faraone's standard offer includes belts to anchor extension ladders to the leaning point.
STEPS FIXED WITH PEGS, 16 EXPANSION POINTS ON EACH SIDE
All rungs are riveted with a 16-point high-power hydraulic expansion system which presses the rung to the upright in 16 different places guaranteeing its long-lasting stability. Faraone also uses rungs with 30 x 30 sections for the 150 range and 35 x 35 rungs for the 200 range, unique in its category. A 28 x 28 rung is sufficient to comply with the EN 131 Standard, but Faraone goes beyond. The uprights used by Faraone have a thickness measuring 1.2 to 2.5 mm, therefore exceeding the 1.2 mm required by the EN 131 Standard.
FARAONEALUMINIUM SCAFFOLDING
Faraone has designed its mobile scaffold towers to make them intrinsically safe; starting from the closable base that allows quick and safe assembly of the same. This is impossible for iron scaffolding with its 40 kg base; that in aluminium weighs a mere 12 kg. The use of aluminium, which is highly resistant and light-weight means it is much easier to mount a side piece weighing 7 kg than an iron side piece of scaffolding weighing an average of 16 kg. Faraone aluminium scaffolding has an average of 50% less components than iron scaffolding, meaning enhanced safety and lower cost. We believe that Faraone scaffolding equipment saves time, fatigue and money, providing the best safety features in the category. The work surfaces have an aluminium structure and phenolic wooden surface, weighing less and lasting longer. Faraone mobile scaffold towers are the only scaffolding approved by ISPESL and that comply with EN 1004 Standards, which allow use without anchoring.
FARAONE PATENTS FOR SAFE USE OF THE PLATFORMS
CCS, lifting chains control system, allows to have the lifting chains, an essential part of the aerial platform always under control. In the case of wear, the system communicates that an overhaul is required, thus avoiding the necessity for periodic chain control.