SCARICA IL PDF:
COSTRUIRE ATTREZZATURE PER LAVORI IN QUOTA NELLA MASSIMA SICUREZZA E MANEGGEVOLEZZA POSSIBILE
UNI EN 131-2 2018: ALWAYS READY.
UNI EN 131-2:2018
The standard introduces new tests: resistance of materials, torsion, duration to fatigue, resistance to slipping.
A new ladder classification based on the loads and their duration has also been introduced:
DOMESTIC USE (or private or non professional) for loads up to 2250 N / 1 min. and dynamic tests for 10,000 cycles ;
PROFESSIONAL USE for loads up to 2700 N / 1 min. and dynamic tests for 50,000 cycles .
UNI EN 131-1:2018
The standard has been updated on 1 JANUARY 2018 and introduced the obligation for ladders more than 3 metres high to use the STABILISING BAR AS A SUPPORT BASE, up to a max. width of 1.2m.
In transformable ladders, the 2nd and 3rd component (if longer than 3 metres), can no longer be removed from the base to be used as a single component.
UNI EN 131-7:
EUROPEAN STANDARD FOR MOBILE LADDERS WITH PLATFORM.
TEXT EXCERPT FROM THE UNI OFFICIAL DOCUMENT OF THE EUROPEAN STANDARD, EDITION JULY 2013
This European Standard defines terms and specifies the general design characteristics of mobile ladders with platform. It applies to mobile ladders with a working platform, with a maximum area of 1 m2 and a maximum height of 5 m, to be used only by one person at a time.
The maximum load is of 150 Kg, which includes a maximum combined load: user, tools, equipment, and materials.
A .
Exact dimensioning of every part with the utmost attention of the totally protected work area.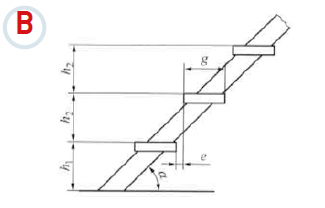 B .
Parameters defined to establish inclination, rung, and pitch.
C .
Rails with exact dimensioning, which does not allow a ball with a diameter of 470 mm to pass sideways.
D .
Load tests on the working platform are performed with about 260 Kg.
E .
THE MOST IMPORTANT TEST:
The tilting test is conducted by applying a 30 Kg lateral thrust.
The test is conducted on each side.
OTHER TESTS AND DIMENSIONAL TESTS MAKE THE LADDERS (COMPLIANT WITH STANDARD EN 131-7) 100% SAFE
WE COMPLY WITH THE STANDARDS IN FORCE. YOU ARE EXEMPT FROM ANY RESPONSIBILITY.
1998 INTRODUCTION OF THE CERTIFICATION OF THE PRODUCTION PROCESS
with serial number and certificate for each product, including the components of the scaffold tower.
PROTECTION GENERAL MEASURES
The general measures to be taken to protect the health and safety of the workers are:


risk assessment for health and safety;
elimination of the risks in relation to the knowledge acquired according to the technical progress and, where this is not possible, their minimisation;
reduction of risks at source;
information, training, consultation, and participation of the workers, i.e. of their representatives, to issues related to occupational health and safety in the workplace standards;
suitable instructions provided to
the workers.

Measures related to safety, hygiene and health during operations must never involve financial charges for the workers.
---
SCALA SYSTEM, WORK PLATFORMS PL AND ELEVAH FULLY PROTECT THE WORKER.
ITALIAN LEGISLATIVE DECREE N. 81
ART. 4. 1. The following note has been added to article 34, paragraph 1, of the legislative decree, after letter c):
«c-bis) working at height: work, which exposes the worker to risk of falling from a height of 2 m compared to the stable surface».
1. The employer chooses the most suitable access system to temporary work sites at height in relation to the frequency of movement, difference in level, and duration of use.
The access system used must allow evacuation in case of imminent danger.
The passage from and to a platform, scaffolding, gangway access system must not involve further risks of falling.
2. The employer provides a ladder to be used as a work station at height in the event the use of other work equipment deemed safer is not justified due to the limited level of risk and brief usage or due to the characteristics of the sites that cannot be modified.
3. According to the type of equipment used in compliance with the previous paragraphs, the employer must identify the measures required to minimise the risks for the workers, which are related to such equipment, installing, where necessary, falling-prevention devices.
These devices must be configured and resistant enough to prevent or stop falls from work stations at height and prevent, as far as possible, workers from injuries.
Collective protection devices against falls can be interrupted only in points where ladders are installed.
ART. 36-TER
OBLIGATIONS OF THE EMPLOYER CONCERNING THE USE OF LADDERS
1. The employer must guarantee the stability of the ladders during use and according to the following criteria:
a) portable ladders must rest on a stable, fixed and resistant surface and with suitable dimensions in order to guarantee the horizontal position of the rungs;
f) Mobile ladders must be secured firmly before being used.
2. The employer must guarantee that workers always have a safe support and grip. In particular, manually transporting a weight on a ladder must not prevent a safe grip.
ART. 36-QUATER
OBLIGATIONS OF THE EMPLOYER CONCERNING THE USE OF SCAFFOLDINGS
1. The employer must calculate the resistance, stability, and relative use configurations if the calculation report of the scaffolding chosen does not include specific structural configurations with relative use diagrams.
2. The employer is exempt from the obligation stated in paragraph 1 if he assembles the scaffoldings in compliance with chapters IV, V, and VI of the Italian Presidential Decree n. 164, dated 7 January 1956.
SCAFFOLD TOWER MANUFACTURED IN COMPLIANCE WITH STANDARD EN1004 AND APPROVED BY ENABLED BODIES.
They can be used without anchoring.
For outdoor use max H. is of 8 mt and for indoor use max. H is of 12 mt. All other scaffold towers must be anchored to the wall every 4 mt.
ELASTICITY
Materials with elasticity lower than 5% cannot be used.
In the event of overload the ladder must not fail suddenly.
Standard EN131 states: "Aluminium alloy parts must have minimum fracture elongation (A) of 5% (EN131/2 page 4 section 3.1.1).
This means that any component: rungs, uprights, hinges, bases, etc., in the event of overload (see test) can «bend but not break» to protect the safety of persons and give them time to step down.
Die-cast aluminium components may suddenly fail. Therefore, WE AT FARAONE DO NOT USE THEM.
TO CONCLUDE, considering that a high percentage of injuries occurs by falling from a height, we recommend using ladders that comply with Standard EN 131- 7 to guarantee total protection or using ladders with large rungs and comfortable inclination, to ensure safety and comfort.
For heights exceeding 2 mt, scaffold towers or aerial platforms.
In addition to standard products, this catalogue describes a product, which has been conceived, designed, and manufactured for any requirement.
TAILOR-MADE SAFETY!
Rules for platforms : click here.